Building FPGABee Version 1
The first version FPGABee delivered a mostly working clone of a ROM based Microbee - similar to the PC85B model.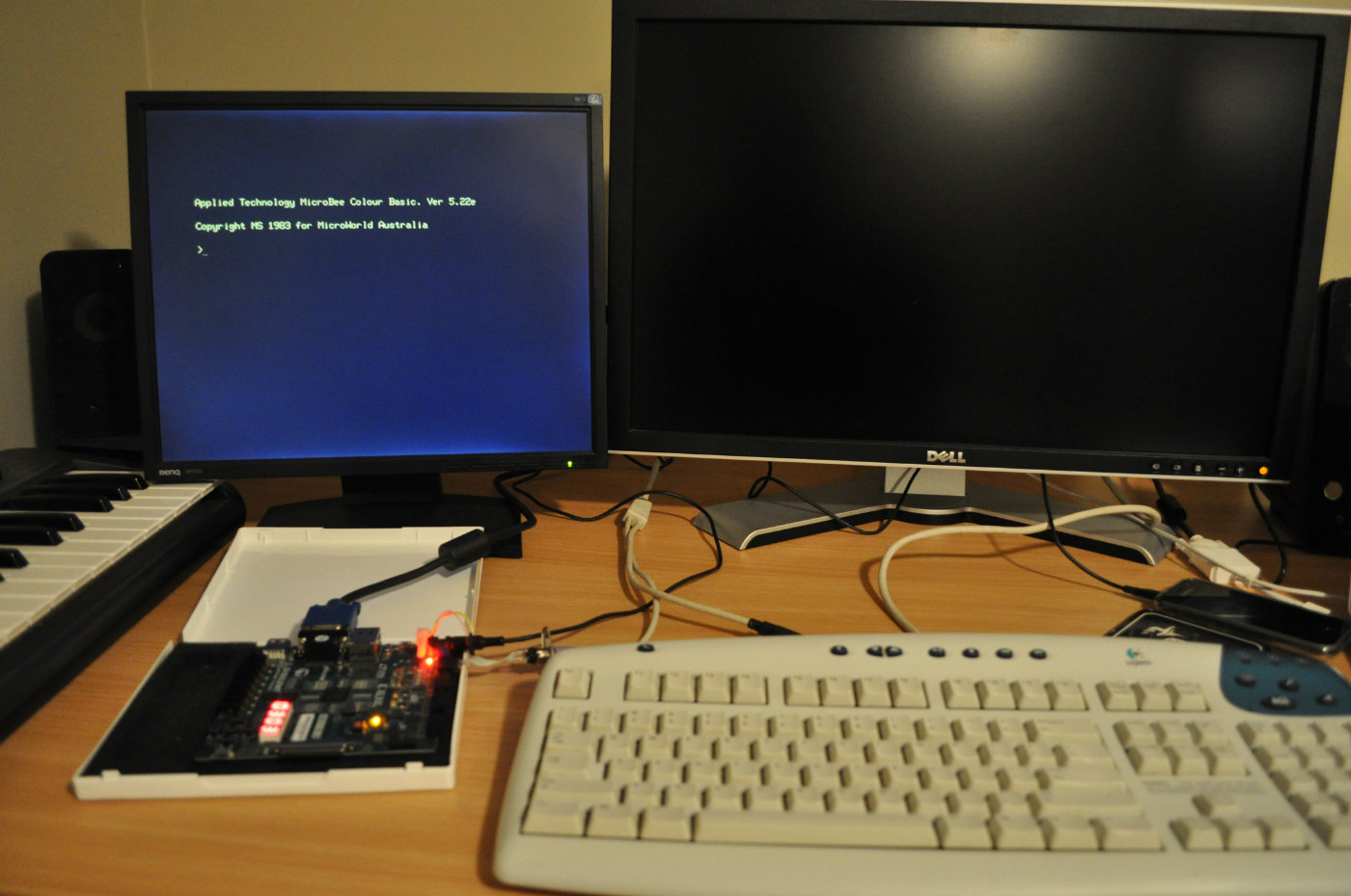 Although the original intention was to take it further, I decided to back track and take a different approach with version 2 so some of this information is now obsolete (most notably the console mode and PCU).
Runs on a Digilent Nexys3 FPGA Development Board
Uses OpenCore T80 for Z80 CPU
32K RAM, 28K ROM, 4K Video RAM/Character ROM\
Partly functional 6545 CRTC implementation - cursor, keyboard, video generation
Connects to VGA monitor at 640x480 resolution with the Microbee output (512x256) displayed centered
Uses PC keyboard with natural character mapping
Programmable Character Graphics (PCG)
Speaker
Cassette Load (Save not implemented yet) from FAT32 formatted SD card
Console Mode for control over peripheral functions
Getting started with FPGAs and VHDL and just enough ciruitry to boot a Z80 processor and display a blinking LED!
Implementing a VGA video controller and mapping to memory layout matching that of a Microbee.
The 6545 is the heart of the Microbee's video controller. This article looks at how it's implemented in FPGABee, including cursor logic.
Covers connecting to a PS-2 Keyboard and mapping received key events to Microbee key-switches and then making them visible to the Z-80 through the CRTC.
Debugging PCG graphics issues and getting a game I wrote in the 80's working on FPGABee!
Connecting a speaker to the FPGA and getting Microbee sounds out of it.
Implementing a virtual cassette interface and the Peripheral Control Unit as a user-interface to control it.